When considering the purchase of a frying range or the need to get in touch with manufacturers, here is a comprehensive list of reputable companies in alphabetical order: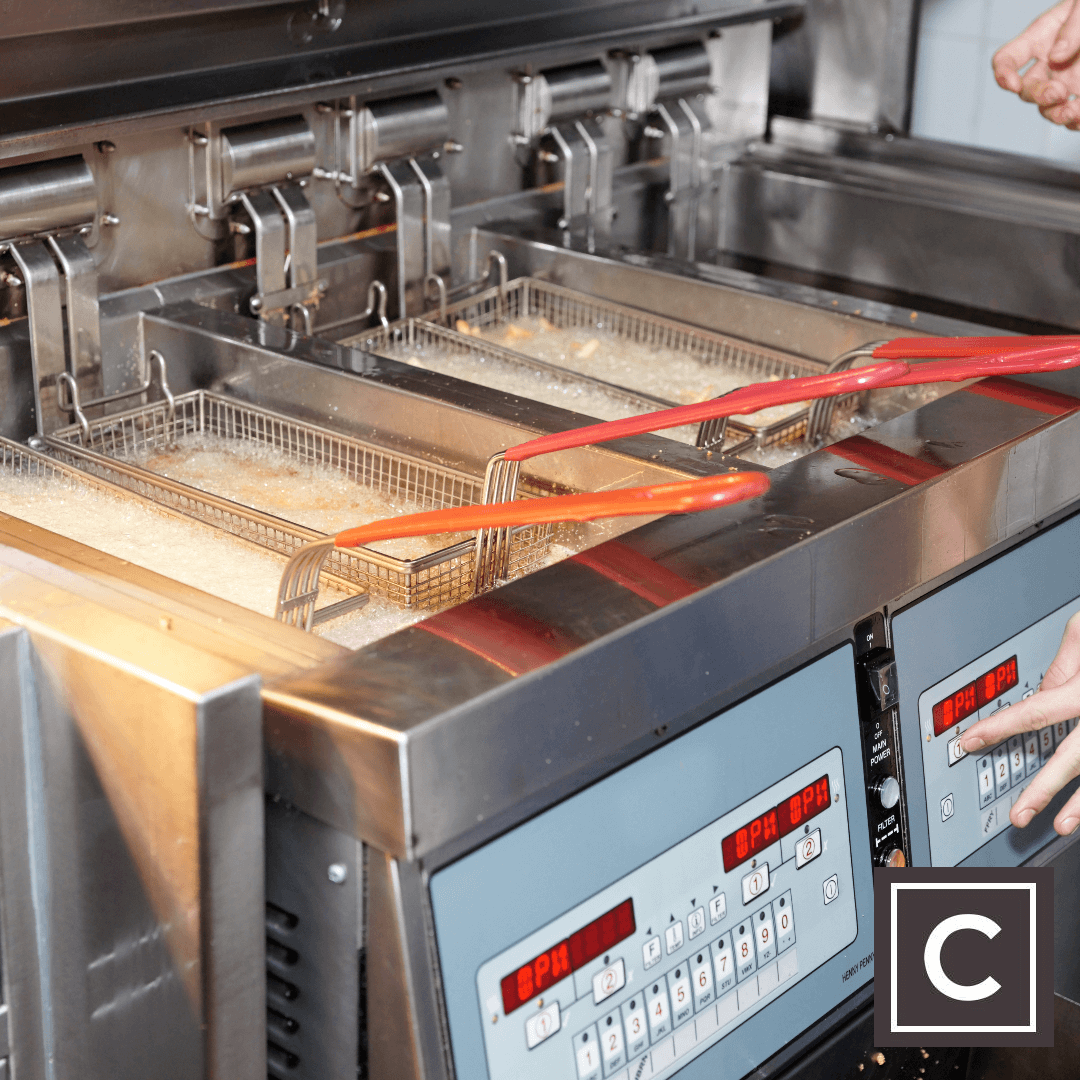 Blackburn Frying Ranges
Operating from Gwent, South Wales, Blackburn Frying Ranges is a testament to three generations of family-run excellence since its inception in 1969. With a legacy rooted in top-tier quality, economy, and efficiency, they specialise in designing and installing natural gas, LPG, and electric fryers throughout the UK. Furthermore, they offer a dedicated servicing and maintenance support facility to ensure their ranges' longevity and operational efficiency.
Address: Unit 13 Springvale Industrial Estate, Cwmbran, Gwent, South Wales, NP44 5AZ
Telephone: 01633 875 895
Website: www.blackburnfryingranges.co.uk
Email: info@blackburnfryingranges.co.uk
---
Ellidge & Fairley
Hailing from Lancashire, Ellidge & Fairley (2014) emerged as a prominent manufacturer and supplier of frying ranges and commercial catering equipment. Their expertise includes serving fish and chip shops, fast food takeaways, and restaurants. A distinguishing feature of their service is providing a free, no-obligation site survey conducted by an experienced sales team. This ensures tailored advice and design options. In addition, they maintain a stock of spare parts at affordable prices and collaborate with a Leasing Company to offer budget-friendly financing options.
Address: Unit D, Beech Industrial Estate,Vale Street, Bacup, Lancashire, OL13 9EL
Telephone: 01706 875 175
Website: www.ellidgefairley.co.uk
Email: info@ellidgefairley.co.uk
---
Fryline
Evolving from the well-established KLS Frying Range Services, its extensive knowledge characterises Fryline and more than two decades of experience specialising in the Fish and Chip Frying Ranges service and repair. Over the past five years, Fryline has been actively collecting feedback from fryers to conceptualise a British-designed, high-quality Fish & Chip Frying Range that encapsulates the best ideas from the industry. This dedication to innovation allows Fryline to offer a comprehensive package that caters to the varied needs of its customers.
Address: Unit 8 Austin Fields Industrial Estate, Kings Lynn, Norfolk, PE30 1PH
Telephone: 01553 772 935
Mobile: 07770 568 939
Website: www.fryline.co.uk
Email: sales@fryline.co.uk
---
Florigo Foodservice Equipment UK
Renowned for its high-efficiency Dutch ranges, Florigo is a prominent name in frying range installation for UK-based fish and chip establishments. Their commitment to enhancing fried food preparation and streamlining business operations has solidified their reputation. Each aspect of Florigo's service revolves around meeting the distinct requirements of their clientele, ensuring that frying equipment meets high standards and maximises efficiency.
Address: 4 Centech Park, Fringe Meadow Road, North Moons Moat, Redditch B98 9NR
Telephone: 01527 592 000
Website: www.florigo.co.uk
Email: info@florigo.co.uk
---
Henry Nuttall
Steeped in history dating back to 1865, Henry Nuttall stands as one of the premier British manufacturers of frying ranges. Their legacy is built upon the art of bespoke frying equipment, marked by modern designs and exceptional build quality. Henry Nuttall's dedication to innovation is evident in their fully certified high-efficiency burner system, integrated 3-stage oil filtration, and efficient customer service. The company boasts service centres in Sheffield and Bristol, supported by sub-contract engineers for nationwide maintenance and support.
Address: Manor Drive, Dinnington, Sheffield, S25 3QU
Telephone: 01909 560 808
Website: www.henrynuttall.co.uk
Email: sales@henrynuttall.co.uk
---
Hewigo
Operating from the West Midlands since July 2001, Hewigo specialises in manufacturing Dutch-style ranges that combine British craftsmanship with the technological advancements of its Dutch parent company. Their emphasis on high efficiency led them to pioneer solutions since their inception. This commitment has translated into value for money for their customers, particularly in high-efficiency ranges, where their offerings come at competitive prices. Hewigo prides itself on innovation and providing cost-effective, high-quality solutions to the fish and chip industry.
Address: Bateman House, Little Fields Way, Oldbury, West Midlands, B69 2BT
Telephone: 0121 544 9120
Website: www.hewigo.com
Email: sales@hewigo.com
---
Hopkins Frying Ranges
With a legacy spanning nearly 60 years, Hopkins occupies a significant place in the frying range market. Established in Pudsey, Leeds, Hopkins brings a comprehensive range of services to the table, from manufacturing and installing fish frying ranges to developing their own line of quality chippers and peelers. Their all-encompassing approach to customer satisfaction includes expertise in design, fabrication, and in-house service and repair teams, ensuring their equipment is a hallmark of efficiency and reliability.
Address: Unit 11 Prospect Park, Richardshaw Road, Grangefield Industrial Estate, Stanningley, LS28 6LF
Telephone: 0113 257 7934
Website: www.hopkins.biz
Email: info@hopkins.biz
---
KFE Limited
A family business with a legacy dating back to 1996, KFE Limited's specialisation lies in manufacturing high-efficiency Kiremko, Smitto & Perfecta frying ranges. Their comprehensive offering includes a nationwide sales and engineering team and the KFE School of Frying Excellence. With an emphasis on partnership, they collaborate closely with industry giant QBTEC to provide tailored solutions that highlight the quality and customisability of their ranges.
Address: Unit A-B, Bentley Business Park, Blenheim Way, Market Deeping, Peterborough PE6 8LD
Telephone: 01778 380 448
Website: www.kfeltd.co.uk
Email: sales@kfeltd.co.uk
---
Mallinsons
With over 85 years in the industry, Mallinson has mastered manufacturing frying ranges. Their brand adorns successful Fish and chip shops across the UK and beyond. Mallinsons excels in manufacturing and offers a range of services, from initial design and planning to steel fabrication. Their commitment to quality, value for money, and exceptional service sets them apart in a competitive market.
Address: Trent Industrial Estate, Duchess St, Shaw, Oldham, Lancashire, OL2 7UT
Telephone: 01706 299 000
Website: www.mallinsonsranges.com
Email: sales@mallinsonsranges.com
---
Martyn Edwards Frank Ford (ME-FF)
Boasting over 100 years of combined experience in specialised manufacturing within the frying industry, Martyn Edwards & Frank Ford emerges as a significant player. Their flagship Omega range integrates cutting-edge frying technology with contemporary aesthetics. They excel in every facet, from construction and installation to after-sales service, ensuring customers receive top-notch equipment and support.
Address: Limerick Works, Limerick Rd, Redcar, TS10 5JU
Telephone: 01642 489 868
Website: www.me-ff.com
Email: sales@me-ff.com
---
Middleton Ranges
With a rich history spanning over 40 years, Middleton Ranges is an esteemed manufacturer of British frying ranges and ancillary equipment. Their dedication to the trade is evident in their commitment to customisation and top-quality craftsmanship.
Address: Unit 3D, Gatehouse Trading Estate, Lichfield Road, Brownhills. WS8 6JZ
Telephone: 01543 899 419
Email: middletonrange@hotmail.co.uk
---
Midland Catering
Established in 1985, Midland Catering brings a wealth of experience. Their Nottingham-based factory is the hub of design and fabrication for frying ranges and catering equipment. Their range of services extends to kebab machines, peelers, and chippers, offering a comprehensive solution for the diverse needs of the industry.
Address: 5 Colwick Industrial Estate, Colwick, Nottinghamshire, NG4 2JU
Telephone: 01159 879 686
Website: www.midlandcatering.com
Email: sales@midlandcatering.com
---
ProFry
ProFry has carved a niche as the sole distributor of Regal frying ranges, designed specifically for mobile Fish and chip vans. Their commitment to innovation extends to oil filtration technology, ensuring efficiency in the mobile catering environment. With a focus on education and training, ProFry aids businesses in maximising their potential in the fish and chip industry.
Address: 111 Spalding Road Deeping St James PE6 8SD
Telephone: 01778 342915
Website: www.profryltd.uk
Email: info@profryltd.uk
---
Scotrange
Based in Glenrothes, Fife, Scotrange stands as a repository of over 55 years of experience in the catering industry. Their specialisation lies in servicing, repairing, and manufacturing custom-built frying ranges. Their journey has resulted in a wealth of knowledge and insights into the industry's nuances, allowing them to provide trustworthy, value-driven solutions to their clientele.
Address: Faraday Road, Southfield Industrial Estate, Glenrothes, Fife KY6 2RU

Telephone: 01592 775 269
Website: www.scotrange.co.uk
Email: info@scotrange.co.uk
---
This compilation encapsulates various frying range manufacturers, each bringing a unique blend of history, innovation, and customer-centricity. Notifying the list curator is recommended if any notable manufacturers have been inadvertently omitted.
175,113,118,122,125,126,131,116,173