Posted by Stelios on 24th Aug 2023
Who doesn't adore a hearty steak pie, especially after a gruelling day or to warm up on a chilly winter evening? This foolproof recipe is a doddle designed to save you time without skimping on flavour. Your customers will love these homemade pies and will keep returning for more.

Why It's a Winner
Simple Ingredients - This is a simple recipe - no kidneys, ale, or mushrooms here. But feel free to add them if you fancy!
Quick & Easy - We use a couple of shortcuts like ready-made shortcrust pastry and Ceres Gravy Mix to get delicious results fast.
Versatile - You don't need pricey cuts of beef, making this pie both economical and tasty.
Choosing Your Beef Cuts
Don't let the word 'steak' mislead you; you don't need to splurge on expensive cuts. Here are some affordable but tasty options:
Chuck Steak - Ideal for slow cooking, it's from the cow's shoulder and upper arm, packed with collagen that tenderises over time.
Beef Shin - A budget-friendly but flavour-packed option, it comes from the lower leg and needs slow cooking to reach tender perfection.
Skirt - This long, thin cut from the diaphragm is lean, tough, but incredibly flavourful when cooked slowly.
Brisket - Originating from the belly, it's perfect for shredding and its fat adds a layer of flavour.
For the best result, consider using a blend of these cuts. Slow cooking will give your pie a rich, deep flavour and a wonderfully thick texture.
What You Will Need
| | |
| --- | --- |
| Ingredients | Quantity |
| Diced Beef (your choice of cuts) | 2kg |
| Ready-Made Shortcrust Pastry | As Needed |
| Ceres Gravy Mix | 300g |
| Finely Diced Onions | 1kg |
| Water | 2 Litres |
| Butter | As Needed |
| Eggs | As Needed |
| Foil Tins | As Needed |
How to Make It
1. Season the Beef - Toss the beef cubes in Ceres Gravy Mix powder. Let it marinate for a bit.
2. Sauté the Onions - In a pan, soften the onions with a bit of butter.
3. Brown the Beef - Add the beef to the onions in the pan and cook until browned. Stir to prevent sticking.
4. Prepare the Gravy - Combine water and remaining Ceres Gravy Mix. Add to the pan, stirring well. Scrape any bits off the bottom.
5. Slow Cook - Let it simmer on low heat for about an hour.
6. Chill - Refreigering overnight will thicken the mixture but also help the flavours develop.
6. Preheat Oven - Get your oven warming to 180°C.
7. Prepare Pastry - Roll oll out your Pastry and line your foil tins.
8. Assemble and Bake - Fill the tins with the beef mixture, top with pastry lids, and brush with egg wash. Bake for 30 minutes or until golden brown.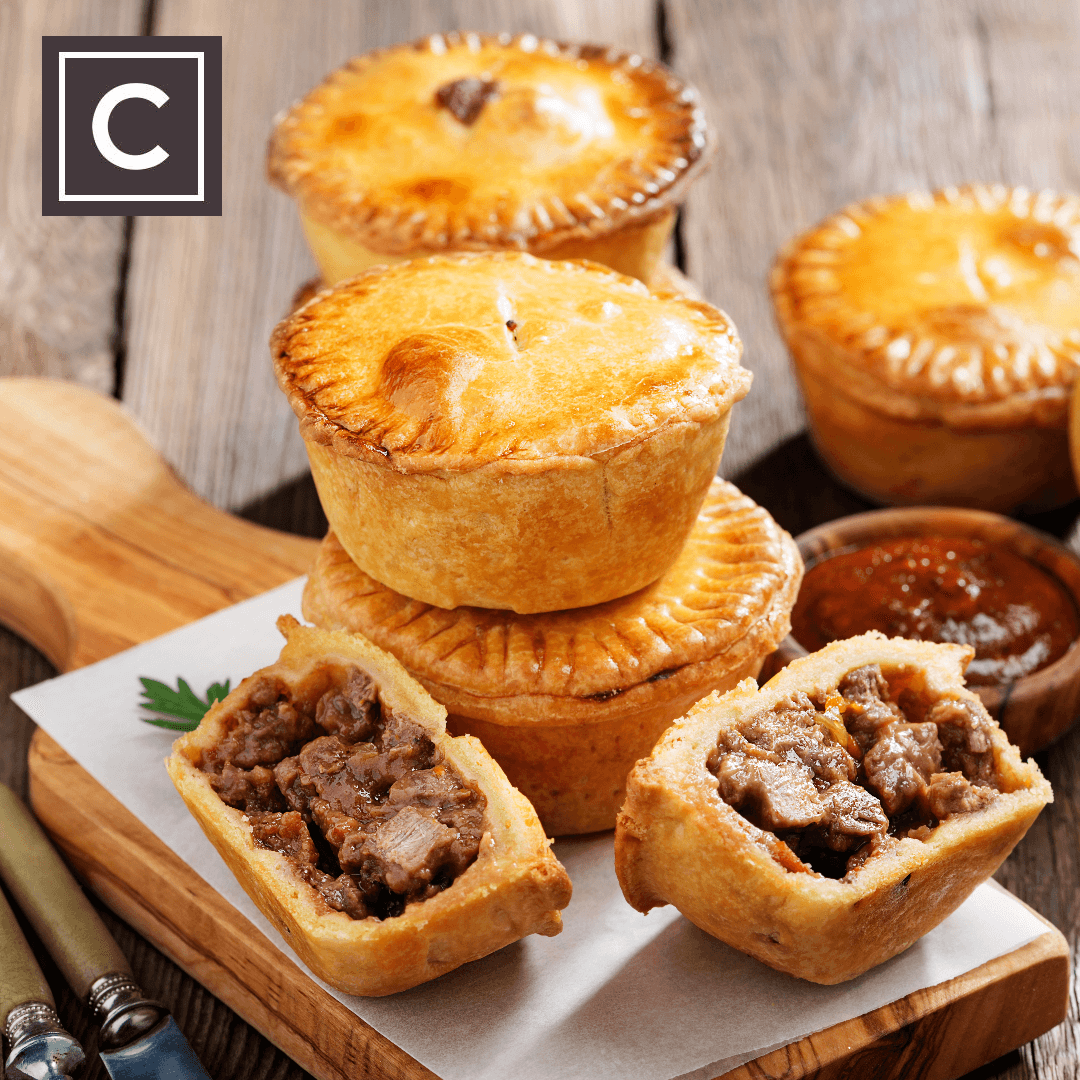 Serve & Impress
Not only is this pie irresistibly good, but it's also a standout dish that could get people talking—and following you on social media. Keep your followers engaged with behind-the-scenes photos and videos of your pie-making process. Trust us, this steak pie is a surefire winner!
175,113,118,122,125,126,131,116,173