Posted by Nick on 4th Mar 2023
Tori karaage, named after its cooking method (frying), is traditionally made with small, boneless chicken pieces, usually thigh meat. In this recipe, the chicken is marinated in fresh ginger, garlic and soy sauce to add flavour and juiciness, then dredged in the Alpha Coater before frying to create a light and perfectly crisp coating.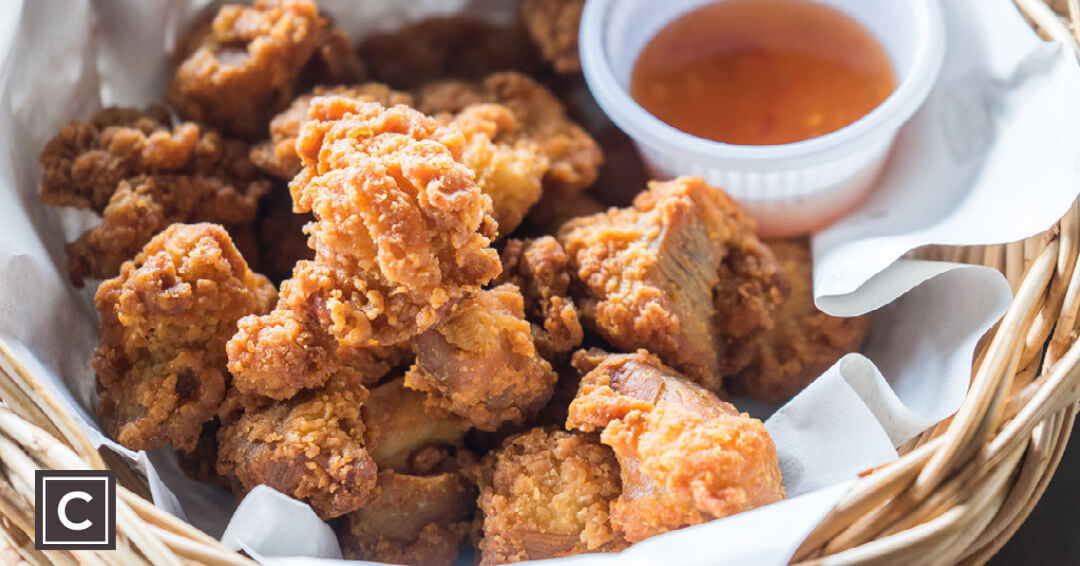 Tori karaage chicken is also called tori no karaage or tori kara age or just karaage. In Japanese, it is written as 鶏の唐揚げ. Tori, 鶏 means chicken, and Karaage, 唐揚げ means deep-fried coated dish. You can pronounce Taw-Ree Ka-Ra-Ah-Ge Different types of protein can be used for making Karaage, but chicken Karaage is the most popular dish.
CHEATS
Soy Sauce:

Soy Sauce's flavour combines five primary flavours – sweet, sour, salty, bitter, and umami – and balances them with subtle nuances. Soy sauce is a powerhouse when it comes to flavour delivery.
Ceres Alpha Coater: The Ceres Alpha Coater uses very specific starches with a high amylase content. Fried food gets very, VERY crispy in the right conditions without getting too technical. Remember, it is allergen-free so that everyone can enjoy this titillating Karaage.
Garlic:

When eaten raw, garlic has a robust, intense flavour. Therefore, it is customary to cook it in some way before serving it, which considerably mellows the flavour. Cooking garlic changes the flavour and texture significantly, resulting in creamy cloves with a nutty, mild taste.
Ginger:

There is no flavour in the world like that of ginger. This particular ingredient is as fragrant as it is flavourful. Ginger is quite aromatic and spicy with a very slight woody flavour that lends a certain mildness to its overall flavour profile. It is hot, zesty and biting yet sweet and warm.
Lemon Juice: Lemon will tenderise your chicken and infuse it with that beautiful lemon flavour we all love.
WHAT YOU NEED FOR TORI KARAAGE
| | |
| --- | --- |
| Ingredients | Quantity |
| Boneless skinless chicken thighs, diced | 2kg |
| Soy Sauce | 50ml |
| Minced Ginger | 100g |
| Minced Garlic | 100g |
| Lemon Juice | of 1 lemon |
| Alpha Coater | as needed |
| Sake | 25ml |
| Liquid Oil | as needed |
WHAT YOU NEED TO DO
1 - Mix chicken, soy sauce, garlic, ginger, sake, 50g Alpha Coater, and lemon juice until the chicken is fully covered. Cover and refrigerate for at least 2 hours and up to 48 hours.
Pro-Tip: If you can leave your chicken to marinade for 48 hours, you will increase flavour, and your chicken will be more tender.
2 - Heat your oil in the fryer until it reaches 175°C.
3 - Dredge the chicken pieces in the Alpha Coating; add coated chicken to the hot oil until the chicken is cooked through and golden.
Pro-Tip: Traditional Karaage is double fried, so feel free to cook ahead and fry off a second time when customers order. The Karaage will be extra crispy and moist inside.
4 - Drain Karaage and serve.
PRO-fit: Serve with a rich mayonnaise or a sweet chilli sauce; even better, bundle it into a meal and watch the chicken fly out and pennies fly in.
173,112,128,122,175,142,124,123,141,131