Posted by Emily on 18th May 2022
"Knife sharpening is an important trade," says Stefano Nella, director of sales operations of knife sharpening service Nella Cutlery Services.
And he's not joking, stating that the importance of a really sharp knife has a key health and safety element.
"A sharp knife is also a safe knife," he stresses.
But there are other benefits of working with sharp knives that make Stefano's business all the more important. For instance, a blunt knife could leave users prone to repetitive strain injury after prolonged use.
"The knife should be doing the work, not you, and if you are continually applying that pressure in that same motion it could come back to haunt you further down the line," he says.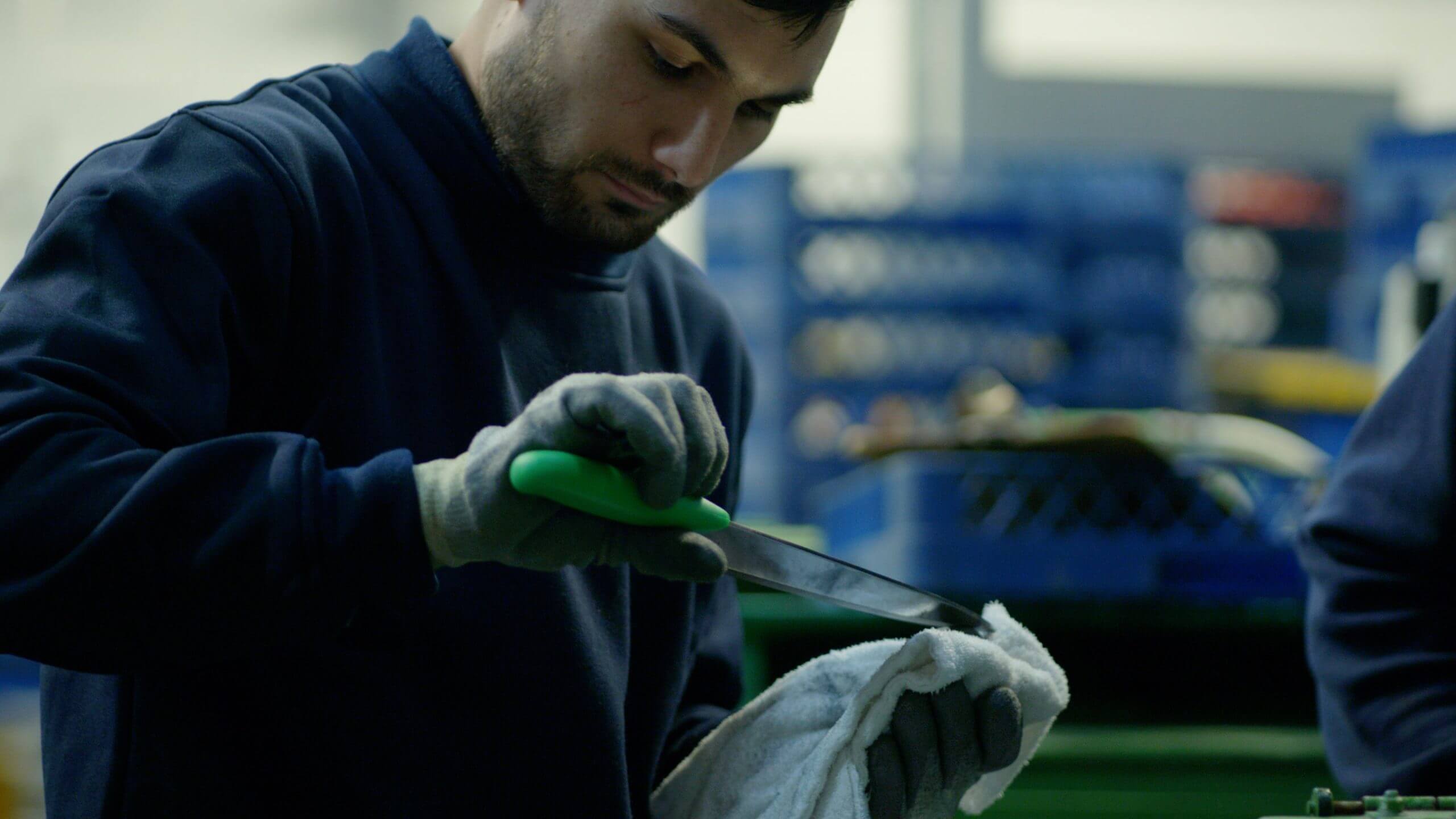 There's also the issue of yield, says Stefano, who uses a simple tomato as an example. Whilst hearing you could get six slices out of a tomato with a sharp knife compared to four with a blunt knife might not excite you, imagine it's a joint of beef or Parma Ham and "you can save a lot of money," he remarks.
With kitchens wising up to the fact that never buying or sharpening another knife again will eventually pay for itself, it's not surprising that as well as three depots in England where its knives are sent for sharpening and reissuing, it also services 1,500 operators in Paris. In fact, Nella is in the process of opening its very first factory in France any day now.
The story of how Nella came to be is an incredible one that starts with Stefano's great grandfather. A farmer from Italy, he plotted his way across Europe in the late 1800s. Walking the entire distance and taking a year to reach London, he sharpened tools such as lawnmowers and sheers on his way.
Due to celebrate 121 years at the sharp end, Nella continues its business today of providing knives to local restaurants, takeaways, butchers, and pub and restaurant chains across the UK, Ireland and Europe.
Nella prides itself on tailoring its service to its clients' needs, with the type of knife, the number of knives, the colour of handles, frequency that they are replaced all up for negotiation. Stefano adds: "With our knives you know it's going to get replaced in a couple of weeks' time and you can focus on the job at hand rather than worrying about some of the expensive tools you have."
Four years ago, Nella moved into resurfacing chopping boards and now over 10,000 a week are resurfaced and reissued. Not only is this saving businesses money – it's 65% cheaper to repair than to buy new – and ensuring boards remain hygienically clean, but it's diverting tonnes of single-use plastic from landfill, enabling operators to meet their sustainability goals back-of-house as well as front-of-house.
"Historically, customers buy chopping boards, throw them away and buy new ones, generally because a health and safety officer condemns them.
"It's a throwaway market and we are still trying to change the culture of that.
"We're trying to get our clients to go green and invest in this service because it's a great thing for the environment. It's going to create a circular economy for the UK and it's going to save operators a lot of money on their purchases."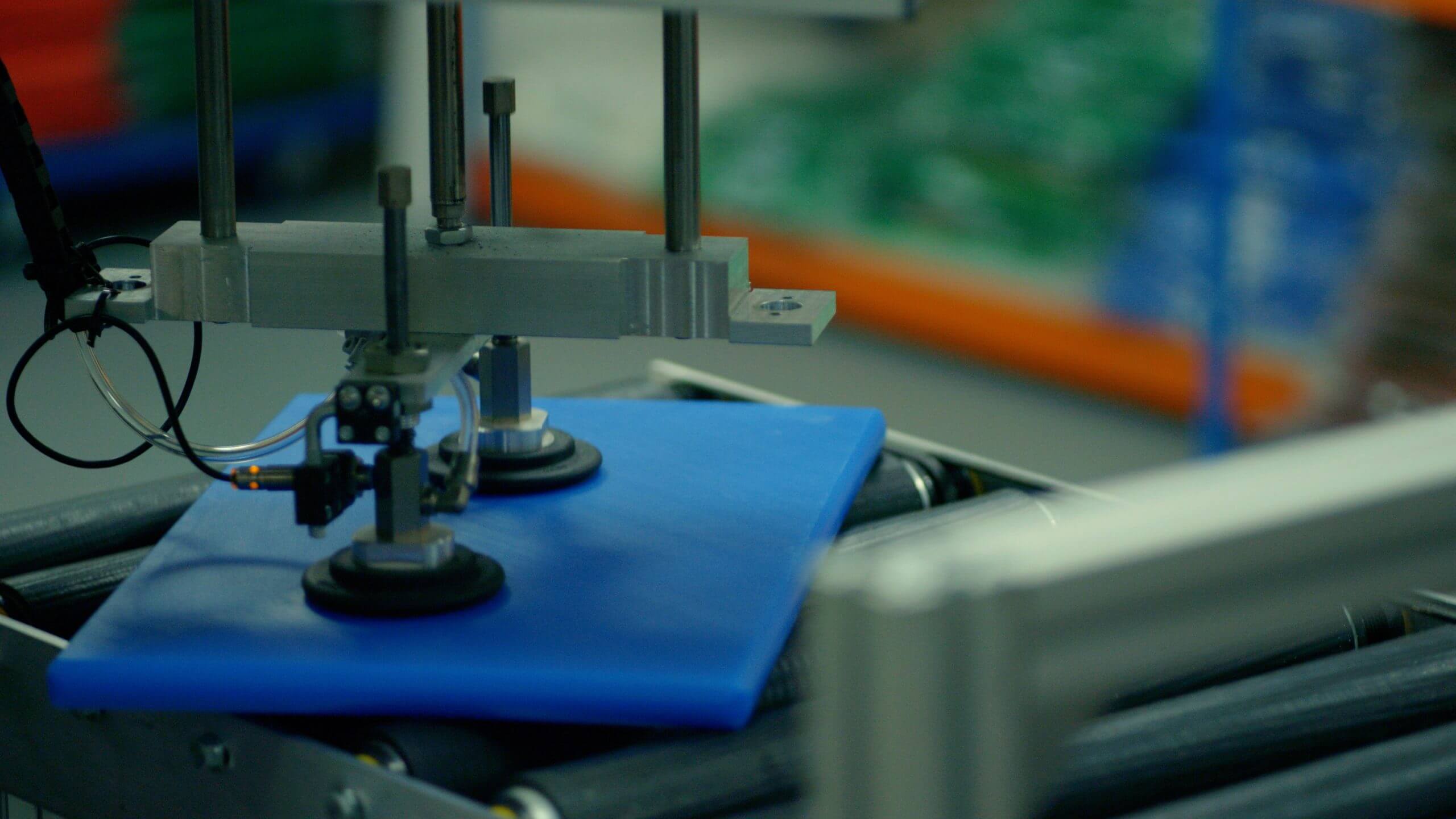 With the repair and re-use mantra at the heart of the business, Nella now services light equipment, which Stefano describes as anything you could pick up and walk out of a shop with.
Providing loan machines in the meantime, it's another example of Nella offering a service that saves the operator money and reduces waste with absolutely no downtime for the operator. "These machines could be £700-800, if not north of £1,000-2,000. For a flat service fee of £100-150, depending on what you have and what's wrong with it, we can service and repair it which is a far more viable thing to do."
Despite all efforts to reduce the number of knives, chopping boards and equipment going to landfill, Stefano knows his company is just scratching the surface of the issue. But he believes the industry is becoming more and more receptive to the idea of repairing rather than simply replacing, especially when they run the numbers.
"It's a very cost effective service. If you can save 65-75% on buying a new board…then it's a no brainer," he adds.
Want to know more about Nella Cutlery Services, visit https://www.nellacut.com or call 0800 028 1105.
173,112,128,122,175,142,124,123,141,131