Posted by Emily on 2nd Sep 2023
This simple accompaniment pairs wonderfully with hot dogs, burgers, homemade fishcakes, and rustic haddock goujons.
While you can easily purchase corn relish from a cash & carry, making it yourself has several benefits. It's more cost-effective and tastier, which could lead to increased sales and higher profits.
This relish is incredibly versatile; your customers will want it on everything.
Choosing Your Corn
If you have access to good quality fresh corn, this would be preferable, but sometimes tinned or frozen corn can be more convenient in a busy kitchen. However, are you compromising on taste or nutritional value?
Tinned and frozen fruits and vegetables have unfairly earned a negative reputation. Ensure you check the labels for any added sugar or salt. Frozen produce is picked and frozen at its peak, meaning it's surprisingly fresh and always in season.
What You Will Need
| | |
| --- | --- |
| Ingredients | Quantity |
| Olive Oil | 2 tablespoons |
| White Onion, Finely Diced | 100g |
| Corn | 1kg |
| Bell Peppers, Finely Diced | 100g |
| Red Chillies, Chopped | 2 |
| Cider Vinegar | 150ml |
| Light Brown Sugar | 75g |
| English Mustard Powder | 1 teaspoon |
| Sea Salt | 1 teaspoon |
| Coriander Leaves, Finely Chopped | 100g |
Method
1. Heat the oil in a saucepan. Add the chopped onion and saute gently for five until softened.
2. Stir in all the remaining ingredients (apart from the coriander), along with the salt.
3. Bring the mixture to a boil, then reduce to a simmer for 10 minutes, until the corn is golden and the sauce clings to the kernels.
4. If using, stir in the chopped coriander leaves and allow the relish to cool.
5. Portion out and store in an airtight container in the fridge.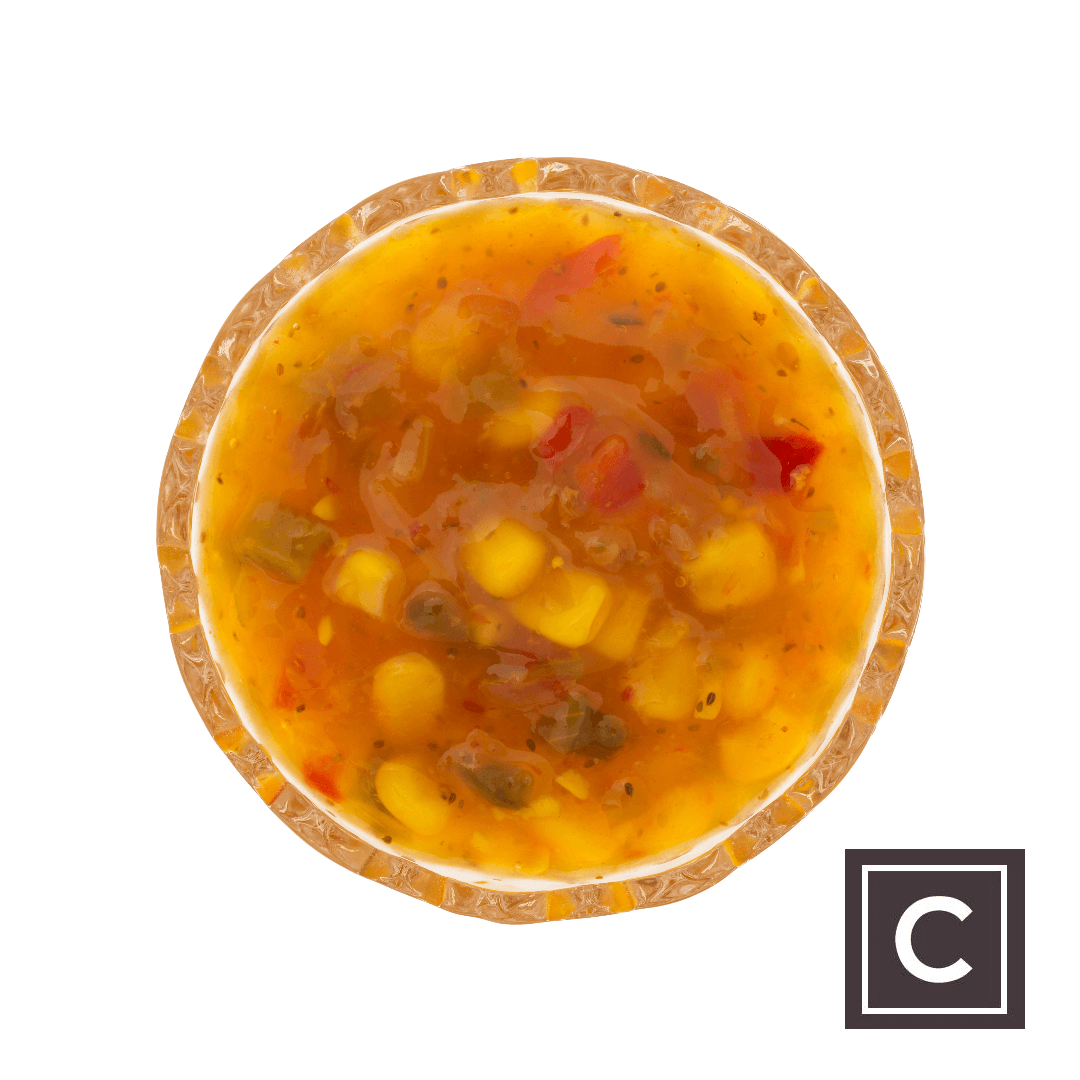 Tip - The amount of chillies added can be subjective as heat tolerance varies from person to person. So adjust according to the taste you're targeting. Your preference for milder food may differ from the more piquant flavour your recipe could benefit from.
175,113,118,122,125,126,131,116,173