Posted by Emma on 14th Nov 2023
There's sizzle and excitement in the air as six dynamic young friers are making waves in the National Fish and Chip Awards 2024. These rising stars, all under 25, are now close to snagging the coveted title of Drywite Young Fish Frier of the Year.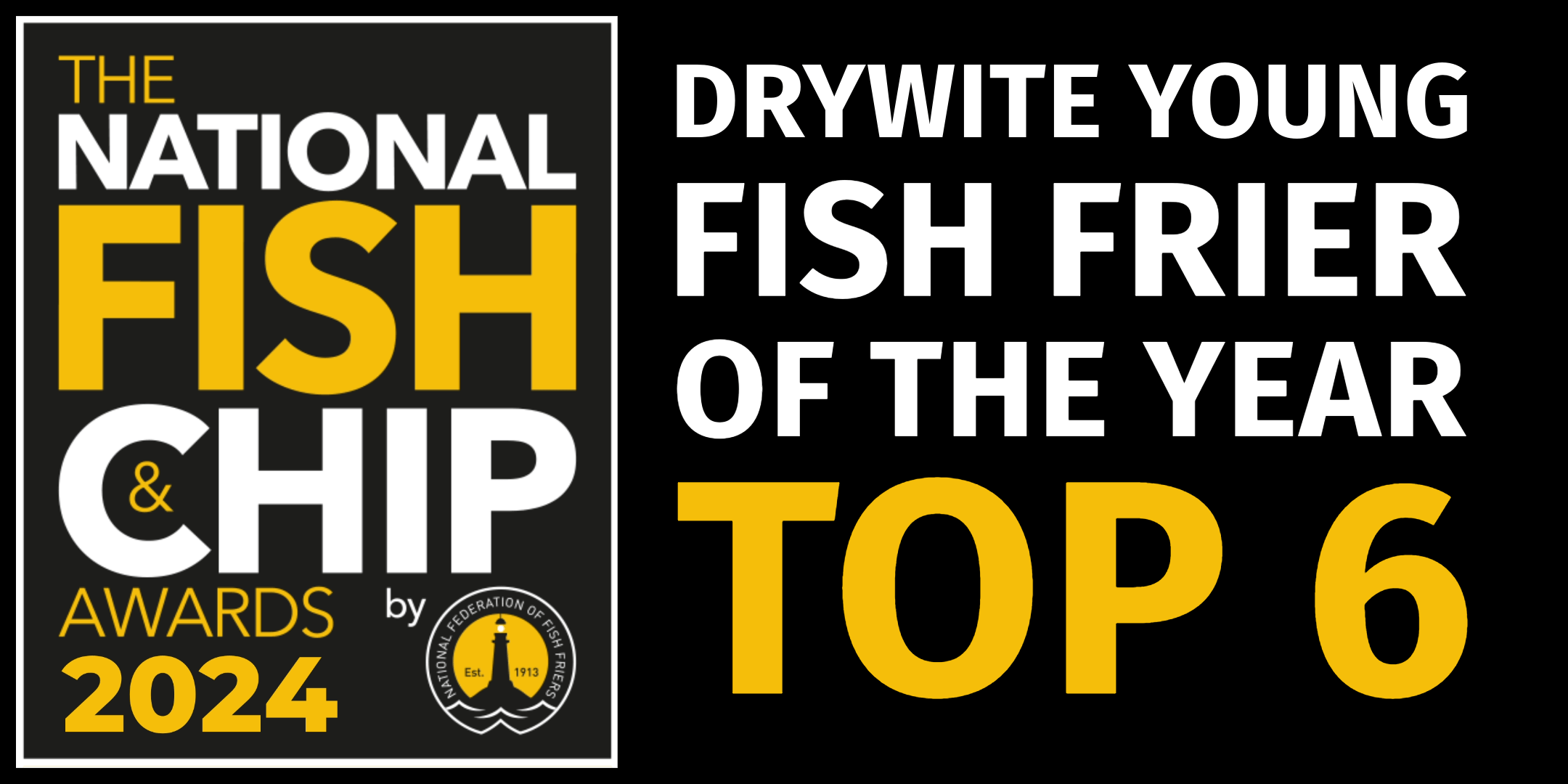 From the ten candidates who made it to the second round, these six young friers impressed with their skilful live demonstrations and endured rigorous questioning from industry experts. Their dedication and flair for the fish and chip craft make them outstanding representatives of the next generation in this beloved industry.
Award sponsor Kelvin Lee, Managing Director of Drywite Ltd, said: "Although this has been a long time coming, I am very pleased that we have now been able to re-instate the Drywite Young Fish Frier of the Year Award. The calibre of young talent coming through the industry is amazing and the shortlisted group has so much potential to really drive their fish and chip careers forward in the future, it will be a thrill to present the Malcolm Lee Trophy to the winner and for Drywite Ltd to be part of their stories."
Lead judge Mark Drummond comments: "This year the competition has a whole new judging process where the candidates submitted a video for the first round as well as the questionnaire and then their frying skills were assessed on video link as well as testing their knowledge with questions in round 2. The six fantastic candidates who have reached this stage will now receive a shop visit from the judges sometime in the coming weeks, where every aspect of their role will be judged including their preparation and frying skills, their knowledge and of course the quality of the fish & chips they produce"
Awards organiser and President of the National Federation of Fish Friers Andrew Crook comments: "This award is always one of the top highlights for the judges. The level of understanding and proficiency displayed by these young professionals is a strong indicator of where the industry is heading and it's full of promise. Being able to encourage and support young fish friers from the first stages of their careers and seeing them flourish is a great privilege."
Meet the six who are frying up a storm:
Imogen Atkinson - The Real Food Cafe, Crianlarich, Scotland

Kieran Bulpit - Linfords Traditional Fish and Chips, Market Deeping, Lincolnshire

James Ellams - Fish and Chips @ Weston Grove, Chester, Cheshire

Charlie James - Pier Point Bar & Restaurant, Torquay, Devon

Glen Marshall Morrison - Garioch Fish Bar, Inverurie, Scotland

Jamie Russo - Redcloak Fish Bar, Stonehaven, Scotland
The three finalists chosen from the shop visits will then be invited to the awards final in London for the grand awards ceremony on February 28th at the Park Plaza Westminster Bridge.
Who are you rooting for? Let us know in the comments.
112,113,118,122,125,126,131,116