Posted by Emily on 4th Sep 2023
Indulge in a delectable relish teeming with bacon, onion, and tomato, subtly enhanced with maple syrup, demerara sugar, balsamic vinegar, and Dijon mustard. Imagine this Tomato-Bacon Relish accompanying buttermilk-fried chicken, embellishing a burger, or even serving with a side of chips.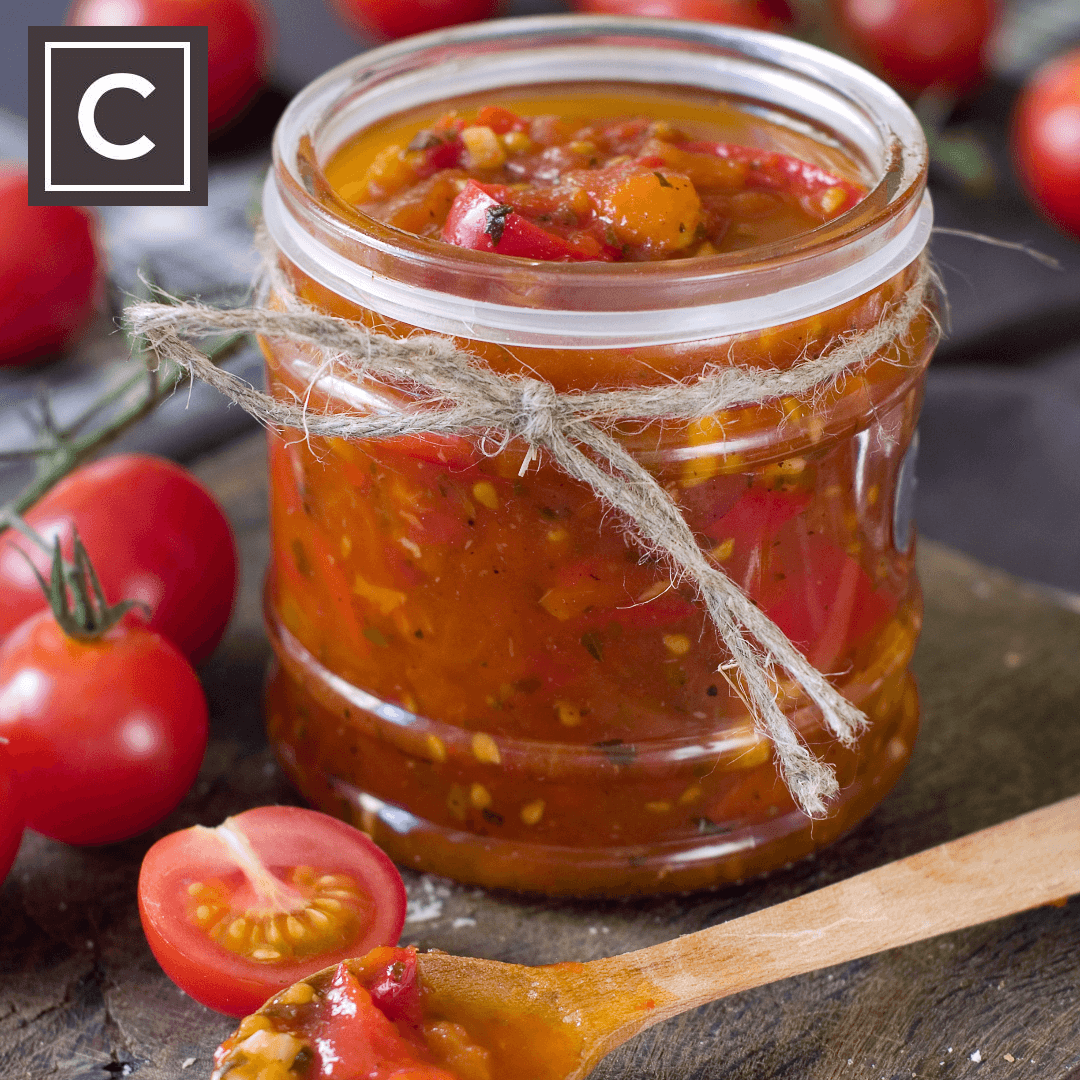 Your customers will undoubtedly adore this delicious, tangy, sweet bacon and tomato relish. Remember, homemade is to offer something unique, something your customers can't find elsewhere. You cannot buy this off the shelf.
Why We Chose Our Ingredients
Smoky Streaky Bacon: Opt for a rich, fatty bacon to infuse the relish with robust, umami-laden flavour.
Worcestershire Sauce: This fermented condiment adds a complex blend of sweet, savoury, and tangy elements.
Tomatoes: The tomatoes will stew down to create a luscious, flavourful jam.
Garlic: Initially pungent, garlic mellows upon cooking, contributing layers of sweetness and complexity.
Cracked Black Pepper: Freshly ground for optimum flavour, its coarseness provides bursts of intensity throughout the relish.
This recipe is a symphony of layered flavours - sweet, salty, meaty, and, my personal favourite, umami.
Preparation
It's straightforward to make. First, slowly cook the bacon until it's browned and the fat has rendered. Then, sauté onions and garlic in the bacon fat. Add ripe tomatoes, maple syrup, balsamic vinegar, Dijon mustard, and Worcestershire sauce, and simmer until thick and spreadable. Whether you prefer it chunky or slightly smoother—achieved with a few pulses in the blender—this relish is ready to delight.
What You Will Need
| | |
| --- | --- |
| Ingredients | Quantity |
| Tomatoes, diced | 1kg |
| Streaky Smoked Bacon, finely diced | 450g |
| Large Yellow Onions, finely diced | 2 |
| Garlic Cloves, minced | 4 |
| Pure Maple Syrup | 250ml |
| Balsamic Vinegar | 250ml |
| Dijon Mustard | 5 teaspoons |
| Worcestershire Sauce | 4 teaspoons |
| Demerara Sugar | 4 teaspoons |
| Sea Salt | 1 teaspoon |
| Black Peppercorns, freshly cracked | 1 teaspoon |
| Bay Leaves | 4 |
Tips
Rendering and browning the bacon enriches its savouriness whilst offering fats for the onion and garlic to sauté in.

Draining surplus fat before simmering maintains the relish's vivid flavours.

It is an excellent addition to profit and customer loyalty, as there's nothing like a homemade touch to make a menu stand out.
Directions
Cook the bacon in a heavy-based saucepan over medium heat until browned, roughly 5 minutes. Add the onions and garlic, cooking until translucent, about 5-7 minutes. Drain off any excess bacon fat.

Stir in all remaining ingredients and reduce heat to low. Simmer uncovered, occasionally stirring, until it has reduced to a jam-like consistency, around 1 hour. Remove the bay leaves.

Optionally, pulse in a blender to achieve your desired consistency, leaving some chunks for texture. Use immediately, or store in the fridge for up to 7 days in portioned pots or an airtight container.
112,113,118,122,125,126,131,116