In this episode of the Ceres Podcast, 29-year-old Matthew Konen talks about the journey he's been on and the challenges he's faced since returning to help his mother, Mary, run the family fish and chip shop Athena B in Portslade, Brighton.
Whilst Athena B has been in the family since 1996, it was leased out for 15 years before Mary took it back in 2018. Temporarily acting as an extra pair of hands while his mum employed new staff, it's turned into a permanent gig for Matthew after seeing the potential the business had if it modernised and moved with the times.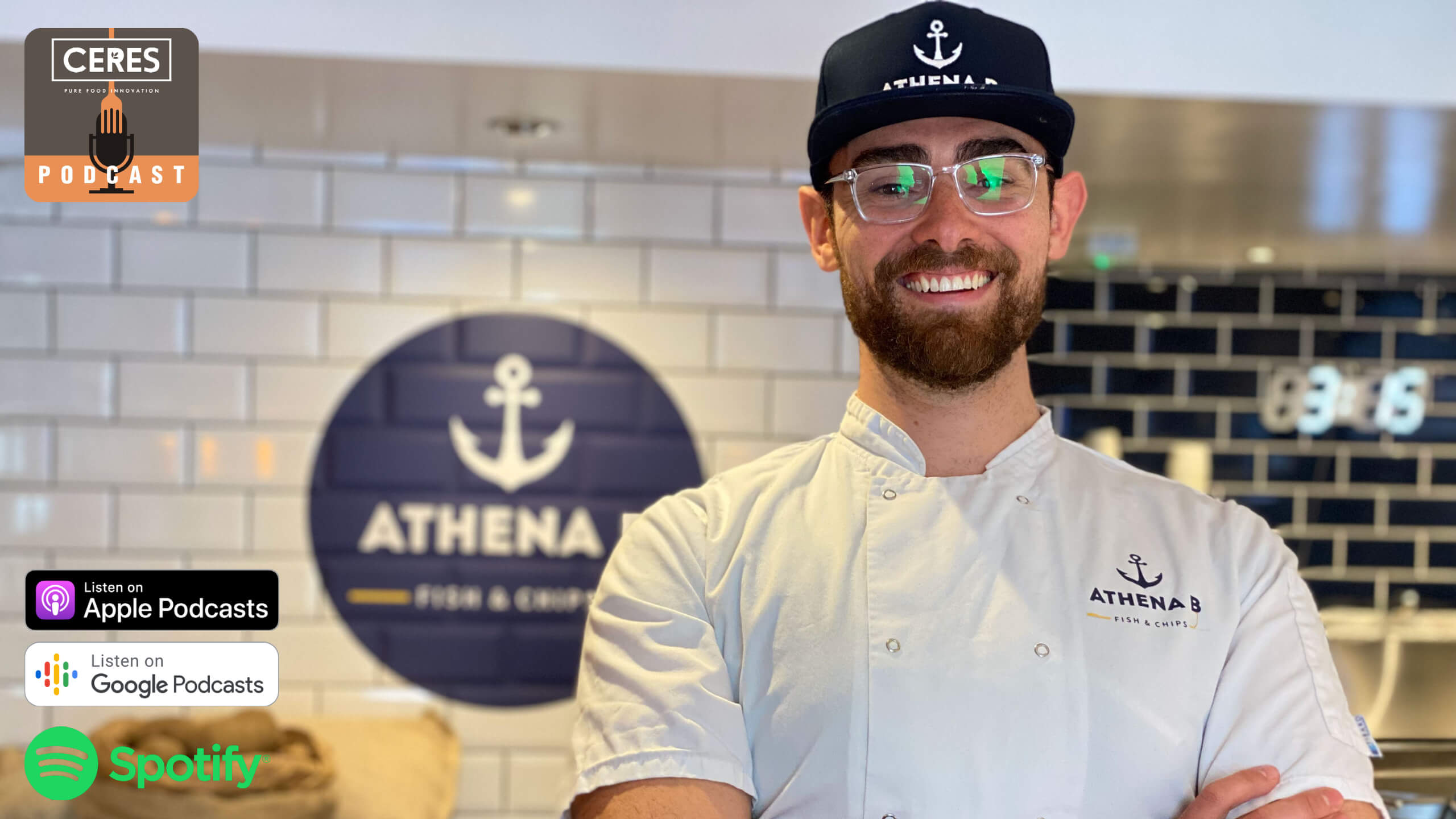 "15-20 years ago you could serve something that wasn't necessarily amazing and you'd get queues out the door," he says.
"We came back to the business and the whole world had changed, everything is on its head. People's expectations of quality are completely different, they have improved tremendously since she [my mum] has been in business.
"The quality needs to be next level, not just to flourish but for a business today just to survive. She was just astounded at how much higher the threshold was."
With Brighton being a smaller microcosm of London, Matthew knew Athena B had to encapsulate the characteristics of the food outlets around it and first on his agenda was helping to rid his mum of her old-fashioned habits, like mixing up a thick batter to make the fish look bigger, wrapping food in paper and using plastic carrier bags.
Matthew has also looked closer to home and honed his skills, learning how to cut fish in a different way and present chips in alternative packaging to make the portions look better and maximise profits.
Having had the greatest impact on the business, however, was Matthew realising he needed to get into the mindset of Athena B's target market. Being the same age and demographic himself has certainly helped as he uses the places he eats in and the types of food he orders as a benchmark for where Athena B needs to be. Being wowed by the new burger and wings shops that have popped up lately as well as places selling loaded chips and sexy sandwiches on focaccia bread, Matthew admits they are more expensive than their traditional counterparts but, in his words, they are also "a lot nicer product".
Mediocracy was now no longer an option for Athena B, with Matthew adding: "Just being bog-standard, selling cod, haddock, cod roe, Pukka Pies and some sausages, I feel like that is going to die out because if a customer can get it from you, they can get it from the next shop down the street. And if it's not new and exciting and capturing those customers, there are so many restaurants, takeaways, new American wing and burger joints, they are going to take your customers. It's way more exciting, it's way more interesting."
This has thrust Athena B down the path of being more than what customers expect of a chip shop; its potatoes are pristine, its food is Instagrammable, its packaging is professionally branded and more eco-friendly, and its menu includes specials that change regularly. "I know it sounds over the top but it creates an experience," says Matthew.
"We've got a chalkboard and we've started doing loaded chips, they sell like crazy, so we do chips with lemon truffle aioli, which is just garlic mayo with a bit of truffle oil and lemon juice, and a bit of Parmesan. It doesn't cost us that much more than cheesy chips but we sell it for quite a bit more and it's amazing profit. Frickles – like I said these sort of American-dinery sort of things that are becoming really popular – we serve them in a nice box, we do a little pot of dipping sauce to go with it and they fly off the shelves and they are really good profits.
"It's trying to have something that people get excited about. We do a vegan menu so we do our own tofish and my mum makes vegan fishcakes where she chops up smoked tofu and she'll mix it with miso paste and Ceres Fishcake Mix. They sell like crazy. All these little things means we can appeal to a modern market if they are health conscious or, should I say, moral conscious. Maybe 15% of our sales are vegan and it's not going away."
Matthew admits to not having all the answers and even with the changes he's implemented he is still struggling to strike the right balance between volume and profit.
"It's very easy to say I would much rather a high volume business and a lower profit margin. I think the biggest thing a lot of owners struggle with is getting people in the door. If we all knew how to do that we would all operate at lower profit margins and higher turnover of product.
"My only pushback is that yes ideally we would all want to have that, but I just don't think it's as easy as that. For a lot of people, it's trying to figure out logistically how to grow the business to a point where it's high footfall and high turnover. That is so much more of a nightmare than to say I'll raise my prices. It's the right thing to achieve but it's extremely hard. I certainly haven't got to the point where I want to be and that's not from want of trying."
Enthused by his vision of a new, modern Athena B, Matthew has also changed his perspective on recruitment, admitting he used to be the kind of person that would put a 'help wanted' sign up and wonder why it got no traction! But after picking up the book Setting Up and Managing Your Own Coffee Bar, he realised he needed to get in the mind of the employees he was looking to hire, just as he had with his customers. His "ad" wasn't generating any interest because he hadn't created any buzz around the position. So now he takes photos of the staff and adds them to Facebook with fun aspects of the job and details some of the perks (he feels this demographic is driven more by being part of something bigger rather than pay). He now rarely has to advertise, the last time in fact being six months ago.
"When staff tell their mates about how much fun it is working at the chip shop, all their mates want to join in and usually if they are mates they are usually cut from the same cloth and they are hard workers and good people as well.
"It really takes just one or two good employees and you can really build off of that."
While Matthew is still finding his way with Athena B, he's positive about the future even though he knows there's still much more hard work to come, adding: "Everything is harder, you have to think out of the box on everything."
LISTEN TO THE ENTIRE PODCAST AT:
173,112,128,122,175,142,124,123,141,131